Metallica is launching a weekly concert series to keep fans entertained during social isolation amid the COVID-19 pandemic.
With its touring plans on hold, Metallica is dipping into its vault of recorded concerts to share a new one each week in its entirety.
The band's video team has recorded every show for years now and regularly posts clips to the band's YouTube channel. (This is how we got evidence of Kirk Hammett and Robert Trujillo attempting covers of A-ha and Prince, among others.)
To raise money for its charitable foundation, All Within My Hands, which supports food pantries in every city the band visits, Metallica announced a plan to broadcast archived shows every Metallica Monday until further notice.
"Need to take a break from Netflix before you binge-watch the entire library? Introducing our brand new concert series #MetallicaMondays," the band said yesterday in a statement.
The first show broadcast was Metallica's June 2019 performance at Slane Castle in Ireland. You can watch the entire concert in the player above.
"Here's to looking back on this period soon with a renewed appreciation for all the amazing times together with our extended Metallica family around the world," the band's statement concluded.
"For now, go hang with your significant others, kids, pets, parents… whomever you have in your space. Create your playlists, watch some movies, try some old-fashioned board games, and most importantly, stay safe. We'll keep in touch."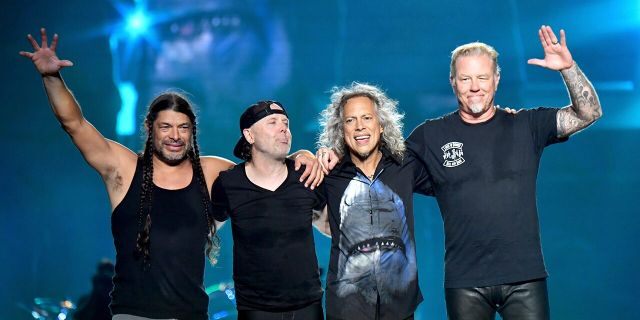 Future Metallica Monday shows will be broadcast via the band's YouTube and Facebook pages.
Metallica cancelled a string of shows last fall and this spring due to frontman James Hetfield's commitment to maintaining his sobriety. Many more of the band's concerts have been pushed due to concerns over the novel coronavirus.