Cliff Burton was born on February 10th 1962, to Jan and Ray Burton. Ray was a native of Tennessee and worked as an Assistant Highway Engineer in the San Francisco Bay Area.
After leaving high school Burton joined local group Trauma. In 1982, Trauma traveled to Los Angeles to perform at the Whisky a Go Go, among those in attendance was his future bandmates, drummer Lars Ulrich and singer-rhythm guitarist, James Hetfield.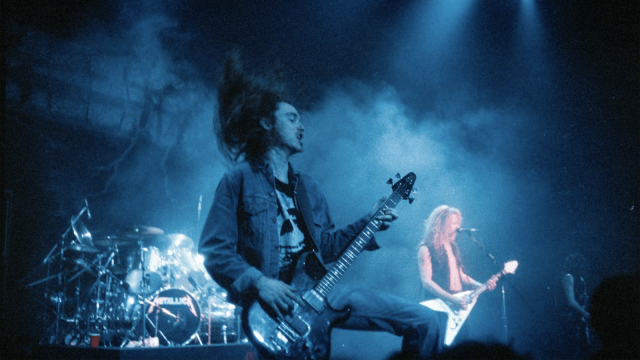 Both were impressed with his bass playing skills and Burton was asked to join Metallica. Apparently, he took some persuading, as he didn't want to leave the Bay area.
On 27th Sept 1986, Metallica bass player Cliff Burton was crushed to death after the band's tour bus crashed between Stockholm and Copenhagen. During a European tour, members from the band drew cards for the most comfortable bunk on the tour bus, Burton had won the game with an Ace of Spades and was asleep when the tour bus ran over a patch of black ice and skidded off of the road. He was thrown through the window of the bus, which fell on top of him.