Josh Rand (born August 19, 1974) is an American musician best known as the rhythm guitarist for the band Stone Sour.
Josh Rand started playing bass guitar when he was 15, inspired by Billy Sheehan, Cliff Burton, Frankie Bello and Jason Newsted. He has known Corey Taylor since he was 15. The two played in several bands together before Josh switched to guitar at age 17. Rand has said that after hearing the band Racer X he knew playing the guitar was right for him. Rand earned a professional certificate in guitar from Berklee College of Music and is currently pursuing a Master's degree in guitar there as well.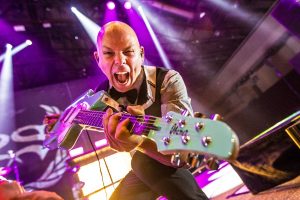 Josh Rand is the second longest-serving member of Stone Sour after Corey Taylor, they have both gone on to release six studio albums and two covers EP's with the band. Rand has stated that he adds elements of metal in Stone Sour's music.