On this day in 1988
The Decline Of The Western Civilization Part II: The Metal Years
was released.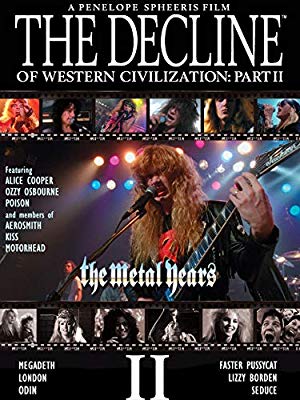 The Decline of Western Civilization Part 2: The Metal Years is the second of three documentaries about youth music movements. The first was a groundbreaking look at the punk rock scene in 1981. This follow-up concentrates on the Glam Metal scene in Los Angeles in the mid-eighties. While certain scenes from the documentary have become legendary over the years the overall effect is all over the place. Unlike most music documentaries from the era, it is very well filmed with good sound that holds up today.
The Good: About halfway through the film there is one of the funniest things I have seen all year. Singer Randy O fronting Odin is performing in assless chaps. He borrowed them for the concert. It is a something that wouldn't be out of place in a Borat movie. In fact, the entire Odin segment is comedy gold combining the Borat vibe with grandiose quotes that wouldn't be out of place in This is Spinal Tap. Other highlights include Ozzy Osbourne cooking breakfast (he does so well till its time to pour the orange juice… so close.) And Lemmy being cool when everyone else (I am looking your way Paul Stanley) is simply trying too hard.
The Bad: The bands; while the original The Decline of Western Civilization certainly didn't have all winners they at least had some bands that would later become famous (Black Flag) and some and that was actually good (X). The Decline of Western Civilization Part Two consists of one horrible band after another. Another challenge is that interviews with dim and inebriated adolescents rarely provide what one would call insight. The filmmaker certainly lets them dig their own holes but obvious questions are often left on the table. (Do you wear makeup and dress like a girl because you are in the band or did you join the band to wear make-up and dress like a girl seems to be an obvious softball just hanging there for some of these guys.) There are also very silly asides that drag the movie out such as an interview with the LA prosecutor investigating the Heavy Metal scene and an endless sexy rock and roll dance contest that is neither sexy nor rock and roll.
In Conclusion: It is easy to forget with today's youth filming every moment of their lives how rare it was in the eighties for someone to point a camera at you. So as a document of this specific place and time the film certainly does a decent job. Glam Metal was dead as disco within a few years and almost everyone involved had to get real jobs. I am sure that many look back with a smile on their face and a shake of the head at their youthful folly. A fun time for those who remember those days.